So nice. We already had the connectivist Massive Open Online Courses – based on learner-centric, distributed activities using a syndication engine to connect the various events. Then came the xMOOCs – more top-down like massive courses, experimenting with auto-grading systems. Now I learned about gMOOCs – game-based MOOCs.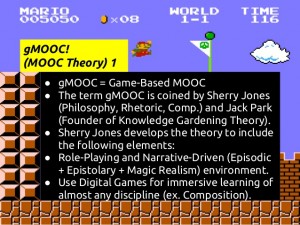 Have a look at this very rich presentation by Sherry Jones and Kate Caruso (great videos!):
A MOOC with a trailer:
rgMOOC 2 will run between September 2, 2013 to November 10, 2013. In fact, this is already a second round, and the course will explore the rhetoric of first person games and the immersive sandbox game Minecraft. You can find the registration form here.
Interesting: they'll explore Minecraft as sandbox game. Second Life is still quite huge, but sooo unfashionable, even among academics, so it seems. Or is it too wild and libertarian for educational use (unless you invest heavily in some closed island) – and what about OpenSim?
I think I'll participate or at least lurk in this rgMOOC. So many themes are relevant for all content creators, not only game-producers: I'm sure journalists and bloggers will learn a lot during this course.