Interesting experience at the Massive Online Open Course (MOOC) #change11 during this week's live session. One of the main lessons: do not underestimate simple tools.
First, the presentation by professor Zoraini's project of implementing mobile technology in Open University Malaysia. It demonstrated how using good old sms helped motivating and guiding the students.
On Not Worth Printing I read a skeptical reaction, asking for objective measures, other than student satisfaction, to demonstrate the effectiveness of the sms technology.
In my humble opinion, it would be great to have those additional insights, but I think that the participants' satisfaction is a very important issue.
Web conferencing
My reflection has not only to do with the content of the presentation, but also with the tools we used. We started out using the open-source web conferencing software bigbluebutton for distance education. Unfortunately, the more than 60 participants made the poor thing crash and burn.
Good old Twitter was being used as a backchannel, and so we learned that there was another venue we could use in the amazing cyberspace:Â fuzemeeting.com, yet another web conferencing thingie. Thanks to diligent retweeting, quite some participants made it to that 'place'.
However, some experienced audio problems and asked for help, using the chat-module of the web conferencing tool. They were saved by a simulcast on livestream.com/ett (EdTechTalk).
Looking at the MOOC-course, a maze of venues, platforms and tools, I think that one of the most popular pieces of it is the Daily Newsletter, aggregating coming events, blog posts, discussion threads and comments.
Second Life
I also started my other course, Awakening the Digital Imagination: A Networked Faculty-Staff Development Seminar. This live session took place in Second Life. One might say that this is a higher level of complexity: using an avatar in a 3D virtual world. However, we kept the technicalities very simple: avatars sitting around a campfire, using voice and text chat. It worked perfectly well – we discussed the text As We May Think (Vannevar Bush). Call be a Second Life fanboy, but I still prefer the immersiveness of the virtual world experience above the ordinary web conferencing tools.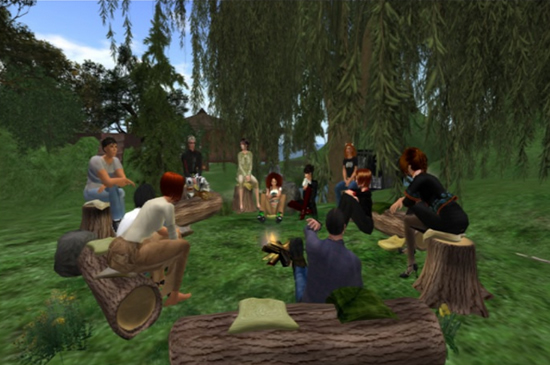 One has the very real feeling of sharing a same space, of being embodied. People socialize before, after and during the conversation. I have the feeling the whole experience leads to much deeper connections. We have a group blog for the Second Life participants and there is an infohub for the project at large.
My conclusion: even at the frontiers of new media simple text-based tools help a lot to keep things organized and people motivated. Do not neglect newsletters, Twitter-messages, chat modules or even sms!
Read also: Deconstructing learning through social media
The group blog virtualworldnmfsfall11