While there are still journalists out there who 'don't get' social media or try to ignore them as much as possible, it seems that mainstream media are more and more embracing blogs, video sharing, social networks and microblogging. The coverage of the US elections demonstrates this: have a look at ReadWriteWeb and Nieman Journalism Lab and find out about CBS working with YouTube or The Washington Post buying a 'promoted trend' on Twitter. Storify, even though it's such a new tool, is being used by a whole bunch of mainstream media to curate social media feeds on election day.
This involvement of mainstream media also puts certain things into perspective, like the often repeated notion that '(long form) blogs are sooo 2005'. I guess it's true people switch to other platforms and styles such as Twitter and Plurk, Tumblr and Posterous, but the 'classical' blogs are still very relevant. In financial journalism it seems that the growing importance of Twitter is stimulating rather than holding back a rich ecosystem of blogs.
Even though I'm totally convinced of the importance of blogs, I have to admit I was surprised, finding this advertisement for the Europe blog of The Wall Street Journal, not far from Antwerp, Belgium: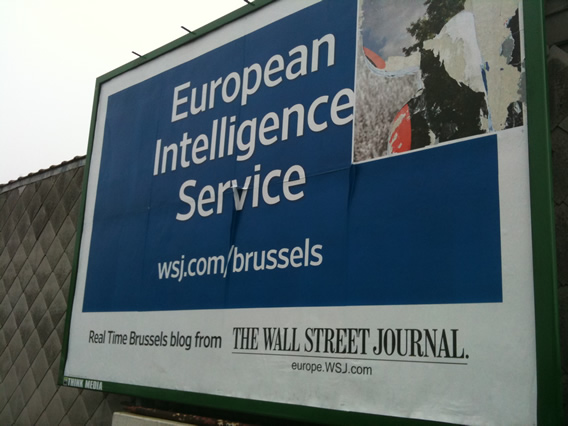 This particular billboard does not look very glamorous, but anyway: here we have it, a mainstream media company, promoting blogs by very classical means and this even in small towns and villages.
It all takes time, maybe too much time. Does this recognition of social media mean that mainstream media are fundamentally changing into more social (transparent, collaborative) organizations? I guess it depends, fundamental change is not an inevitable consequence of  launching blogs – but more about that in a later post.