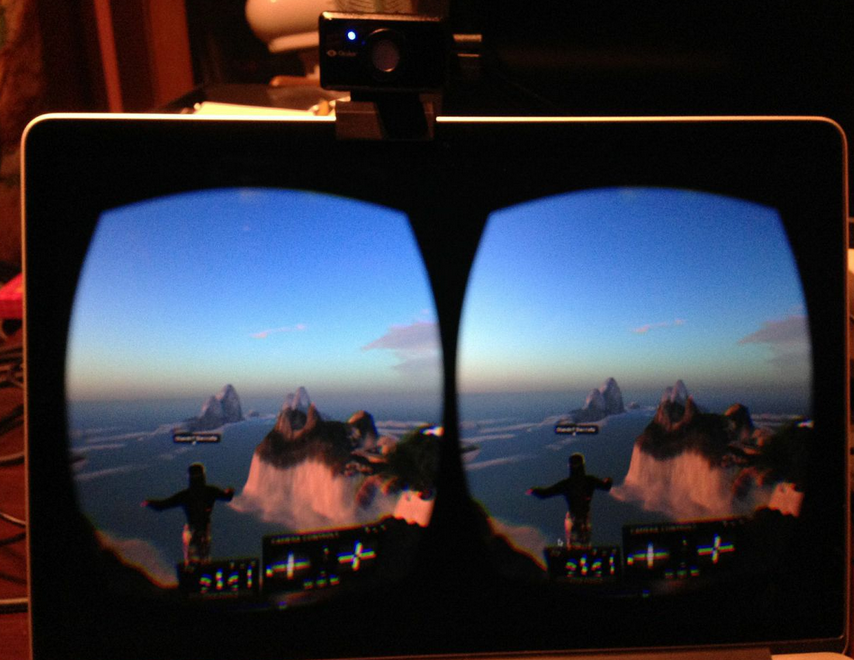 So I bought an Oculus Rift virtual headset and ventured into Second Life using the special viewer. This was rather frustrating using a MacBook Air 1.7 Ghz, Intel HD Graphics 5000, but things went a lot better with a MacBook Pro 2.5 Ghz and an Intel Iris Pro for graphics.
I got no motion sickness as the environments were rather slow – a tranquil Japanese sim, an Italian one, a stunningly beautiful beach scenery with a few avatars. It was captivating to be immersed  this way, looking down into a fascinating tropical sea, up to birds in the sky and high rocks. Or flying and looking deep down. On the other hand the interface is still difficult to use as you cannot see the keyboard, the first person view is imperfect as one looks down without seeing legs and feet. Small imperfections in the scenery or the scale of the objects seem to become more important as it stops the "suspension of disbelief".
I guess it will get better, especially as there is a new Second Life in the making. Yet  I wonder whether a virtual headset version, even perfectly implemented, will attract that many more users. The immersion into another body and into artificial paradises appeal to a niche. We live in times of short attention spans and people love to integrate the digital closely into the 'real' physical environment, so mobile augmentation possibly has a future on a mass market, but this is not what this Second Life virtual experience is about. My guess is that virtual headsets will make user-generated virtual worlds even more appealing for the existing fan base, but they won't convince the mainstream to embrace these environments – unless new applications and use cases are discovered.
Update: Â I also noticed how important audio is in such a highly immersive environment. The Oculus makes you notice so much more of the virtual environment. It's as if when you use one of your senses more, you also need using at least one other sense more intensely.