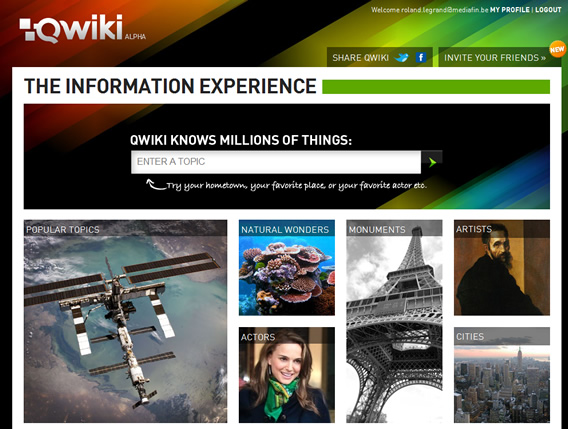 Just a quick shout here about Qwiki, which does something extra with wikis: "working to deliver information in a format that's quintessentially human – via storytelling instead of search." The site explains:
We've all seen science fiction films (or read novels) where computers are able to collect data on behalf of humans, and present the most important details. This is our goal at Qwiki – to advance information technology to the point it acts human.
It's pretty cool: Qwiki tells you in voice about your selected topics, showing pictures and videos, automatically generated. They're working on a platform allowing any web publisher to turn their content into Qwikis.
Just do some searches and be surprised about the slick results, and imagine how things could evolve in a not too distant future. How cool it would be to have this service on a wearable device, enabling you to command it using simple voice, and getting the voice response and pictures wherever you are.
The service is in private alpha but you can join and suggest improvements.
Hat tip to my colleague Raphael Cockx who found out about this new service.