How can one combine longer posts with short posts, often just mentioning something interesting on other blogs without being inclined to add something substantial? I've been embedding Twitter in the right column of this blog, as I do at my Bear&Bull blog (Dutch language).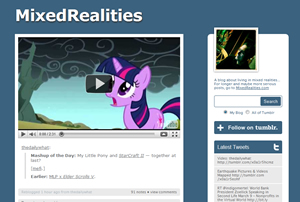 However, often I'd like to include some pictures or videos in that stream. Or to add something longer than 140 characters. So I decided to use Tumblr as a platform for fast and short (re)blogging. I embedded it in the right column, and of course I'll continue using Twitter (both accounts are linked, but not automatically).
I integrated the Disqus-commenting system in my Tumblr blog. I'm still struggling with the design aspects of combining slow and fast streams, but anyway, I'll give this a try. It will help to add new stuff on a daily basis, while reserving the main column of this blog for longer posts.