One of the things which seem to interest web-savvy journalists and students is curation: selecting, contextualizing social media and web streams. I use Storify to report and curate events such as the Arab uprisings and the disasters in Japan, and now I'm experimenting with Scoop.it! creating a page about curation. I also use Pearltrees, for instance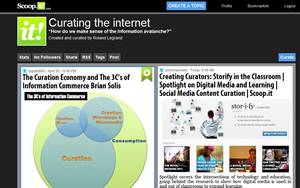 The service is in private beta and is still working on some important features such as a way to embed the pages on external blogs or sites. However, it looks nice and promising – it's a very flexible tool, allowing to move articels around, to include images or not, to edit texts and connects the articles and pages with other social media.
While I was assembling my page I discovered that yet another curation tool or platform will be launched: Storination, based on Storify. Which makes me wonder which whether all those fledgling services (Scoop.it, Storify, Curated.by, Keepstream, Bag the web, Pearltrees, and others I guess) will survive and what happens to the content one has on such a platform when it goes down (so an important feature seems to be 'easy exporting' of your content).
I think curation is a major development on the web and beyond. For every geek who happily uses hashtags, lists and other tools on Twitter there are 99 other internet users who don't use Twitter actively or don't use it at all. Social bookmarks, rss-feeds, google alerts are as yet not really mainstream, which make it crucial to have tools to present the richness of the web in a fun and easy way. Journalists are really dependent now on social media for their coverage and need ways to work efficiently and present their stuff in a esthetically pleasing way.
In fact we're all drifting around on a social media stream which never seems to leave us alone anymore, because of our mobile devices and the irresistable blending of the digital and physical realms of life.