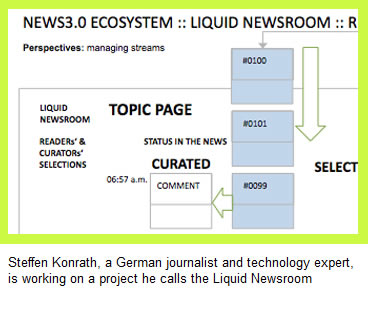 Liquidnews, or the Liquid Newsroom, is an emerging news project that's all about the above strategy, radical openness. I found out about the project on Twitter via the #liquidnewshashtag. It's where a group of people, many of whom are journalists, discuss a project for a "liquid" or a "virtual" newsroom.
They talk about what a Liquid Newsroom could be, about the business model, and the technological platform necessary make it happen. They exchange tweets such as this one from Steffen Konrath: "Currently exploring ways to add Sparkbox (@tonihopponen) & Clp.ly (@Kinanda) to the Liquid Newsroom project #liquidnews."
On September 1, Konrath published a Liquid Newsroom Manifesto on his blog, which reads like a proposal for a kind of postmodern virtual enterprise. In his model, the relationship between the "outside" and the "inside" of a company changes fundamentally. For instance, he writes, that in this newsroom "the content is triggered by events and interest of the people, and not by the purpose of keeping a company alive."
I had an interview with Steffen, which you can read on my blog at PBS MediaShift. Stay tuned for more about how virtual enterprises can help develop enterpreneurial journalism in the broadest sense of these words!