I'm recovering from the second MetaMeets day, but here comes my report about the second part of this two-day conference in the beautiful 's Hertogenbosch (the Netherlands).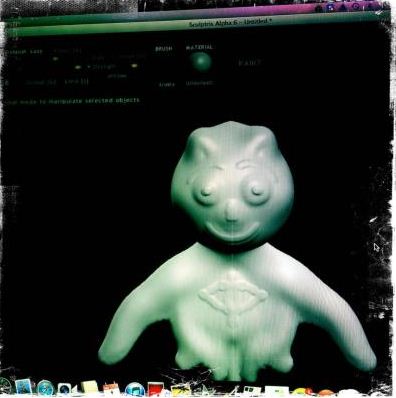 This day was hands-on: we had a workshop during which we learned to use sculptris to make a model, meshlab to clean it up, and then have it 3dprinted at fablab. My own creation was less than stellar (I even had no computer mouse so my equipment was to blame of course, not me!) but anyway, it was great fun. Chris Kautz facilitated the workshop, he has a great website packed with tutorials and resources: art-werx.com. On YouTube he has a series as crocodileEddie.
Much of the conference was about escaping from the virtual or digital world into the real world via augmented reality or 3D-printing, but we also discussed how to get the physical into the virtual, using Microsoft's motion sensing input device Kinect.
The chair organizer of MetaMeets Jolanda Mastenbroek was thrilled to try out the Kinect – by slowly moving her body, she brought avatars in Second Life to life – they were moving in sync with her movements in the physical world. This could also work for the open source-version of Second Life, OpenSim.
[iframe][/iframe]
For the techies, please consult this page about Kinect and Second Life. It's an ongoing project, but imagine the possibilities for machinima, gaming and inevitably adult entertainment (always an indication whether or not a technology will succeed).
In my presentation I asked for business models. Can people earn a living in this sector of virtual worlds, augmented reality and mixed realities? Someone who combines with great success his physical artwork with virtual stuff is the French artist Patrick Moya. We watched this video about his work:
[iframe]

[/iframe]
A very different style is this beautiful impression of the Second Life art installations by Artistide Despres, filmed and edited by Marx Catteneo (aka Marc Cuppens) http://www.marccuppens.nl
handheld machinima 2012:
[iframe]

[/iframe]
Cuppens also showed this video about The Cube Project LEA 2012 Second Life.
The Cube Project August 2012, "Over 25 virtual artists have joined the ranks of The Cube Project, curated by Bryn Oh, to create a 20-sim exhibit in just 5 days. What's the theme? Artists can only use two distinct virtual objects: a black cube, and a white cube."

Bryn Oh: "We are turning away for a moment from the wonderful range of mesh or photoshopping beautiful textures to work instead on simple minimal compositions in black and white, over 20 regions. The overall idea is to create a massive harmonious environment rather than follow the standard exhibition practice of each artist having a clearly defined separate space to exhibit."

The Cube Project is a collaborative artwork consisting of virtual artists Bryn Oh, Cajska Carlsson, Charlotte Bartlett, Dancoyote Antonelli, Giovanna Cerise, Haveit Neox, Kicca Igaly, L1Aura Loire, London Junkers, Maya Paris, Misprint Thursday, Nessuno Myoo, Oberon Onmura, PatriciaAnne Daviau, Pol Jarvinen, Rag Randt, Rowan Derryth, Sea Mizin, Secret Rage, Solkide Auer, Remington Aries, Solo Mornington, Tony Resident, Werner Kurosawa and Xineohp Guisse.

A video impression by Marx Catteneo – handheld machinima august 2012
Music by the Artist: Logical Confusion Track: Darklight Album: Logical 3
Downloaded from tribeofnoise.com
[iframe]

[/iframe]
Virtual worlds are not dead, they just smell funny, Flufee said at the opening of the conference (see previous post). It's a quote from Frank Zappa who said Jazz isn't dead. It just smells funny. The same applies for virtual worlds. They are somewhere on the agonizing slow exit of the trough of disillusionment in the Gartner cycle of hype, but they allow us to change the real world as we put layers of digital information on the physical reality. They also allow us to change the real world as they enable artists to create new art.
Read also the first part of the MetaMeets report. I also updated my wiki mindmap about this conference.