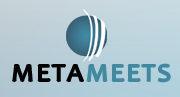 Tomorrow I'll be in Amsterdam for the MetaMeets 3D Internet & Virtual Worlds conference. What do I hope to learn?
In my media practice I have daily chat sessions for my newspaper & site & blog, using CoverItLive. I embed that tool in our site, it's easy to use and rather sophisticated – allowing for moderation, integration of all kinds of media types. It's text chat based, so no fancy 3D avatar stuff in virtual settings.
I can imagine that some chat sessions could benefit from a virtual setting. It would facilitate deeper discussions, longer attention spans, serendipitous encounters. But at the same time it's crucial that people can enter such environment as frictionless as possible. That means no downloads, getting an avatar must be fun and real easy, no steep learning curve. In other words, browser based virtual environments.
In Amsterdam I'll attend a presentation by Ilan Tochner, the CEO of Kitely, about Virtual Worlds on Demand. They make it very easy to launch your own OpenSim-based virtual world. However, I think those visiting your world will have to download a Second Life compatible viewer – which means it's not really what I'm looking for. Tochner realizes the importance of this issue. He told Hypergrid Business that the Second Life and OpenSim viewer can be ported to HTML 5 and Web GL in a matter of months — and he's looking for people to help accomplish that.
Even if we have browser-based virtual settings, I'm not convinced the mainstream audience will embrace these possibilities. For quite some time I hear that the younger generations are so used to interact in virtual gaming environments, using avatars, that doing so in a professional context will be a logical step for them. I really think that's way too optimistic.
So what could be the future? Maybe augmented reality? That's not a virtual world such as Second Life or World of Warcraft, but a way to put digital information on top of the physical reality (and one of the possibilities might be blending the virtual and the physical).  In Amsterdam there'll be a presentation about the mobile augmented reality browser Layar, I have Layar on my iPhone, and there are some layers which I really like such as streetARt and of course the Wikipedia layer. Looking at how my colleagues and friends use their smartphones, I must admit there seems to be not much traction for augmented reality as it exists now – essentially staring in a funny way through your smartphone camera and ending up using the  2D map. But, being a geek and loving sci-fi, I hope the Layar-enthusiasts at the conference will convince me.
I use Second Life as a place to meet very creative innovators, and I try out some very simple experiments such as 3D mindmaps. In Amsterdam one of the discussions will deal with immersive 3D worlds as innovative platform for co-creation.
Other aspects which interest me are community management and making videos (machinima) and documentaries in virtual environments or broadcasting from within those environments. This being said, MetaMeets will be combined with the MaMachinima International Festival (MMIF).
More about all this in the next few days and if you have questions about all this, don't hesitate asking them here so I can try and get some answers!
Follow me on Twitter @rolandlegrand and for more extensive coverage of the conference on @mixed_realities